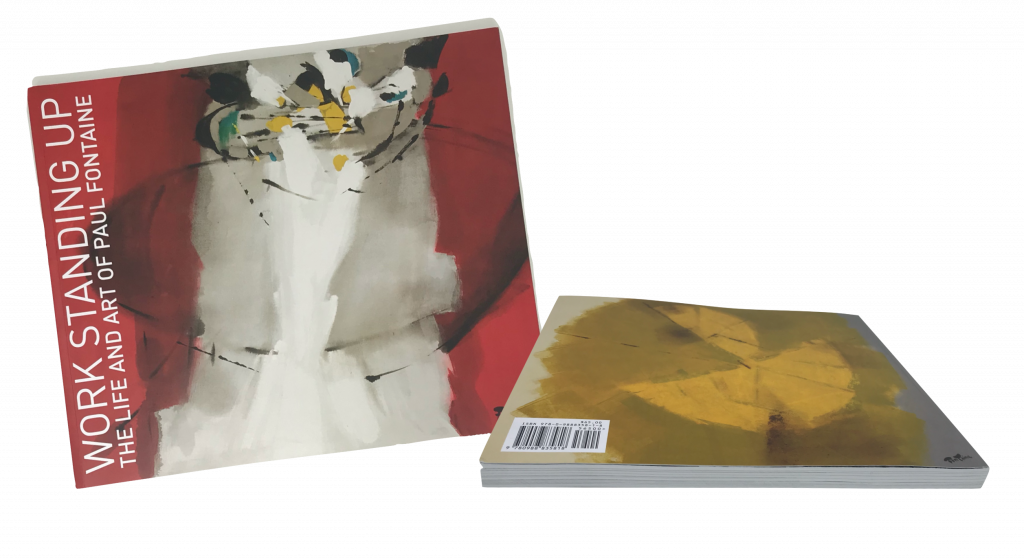 The Life and Art of Paul Fontaine
Work Standing Up: The Life and Art of Paul Fontaine.
Claudia Fontaine Chidester with foreword by Katie Robinson Edwards and essays by Margaret Stenz, Mary Brantl and Robert Linsley.

Perfect for aspiring artists on how to live your life and make a good living as an artist.
Work Standing Up is a story about one man's decision to be deliberate in his choices about where he lived and how he lived it. It is a testimony that where one comes from has almost nothing to do with what one can achieve; that it is truly possible to make a good living as an artist.
About the book
Born in Worcester, Massachusetts, Fontaine discovered early a talent for drawing and painting, and not much else. He was a product of the Depression, yet managed to graduate from Yale, paint in the Virgin Islands, and paint in Italy as a soldier during World War II. Rather than returning to the United States, he remained in Germany as the art director for Stars and Stripes—and stayed for 25 years, painting and exhibiting with the finest European and American abstractionists, such as Willi Baumeister and Alexander Calder. In 1970, he moved with his family to Mexico for another 25 years, and finally Austin, Texas, for the last four years of his life. He and his wife were expatriates but also essentially ambassadors for America's cultural aesthetic. Whether holding court among his peers, living in a tent, or buying art, Fontaine's approach was to study, immerse, and act. Art historians Margaret Stenz, Mary Brantl, and Robert Linsley each provide investigations into Fontaine's art during the different periods of his working career: the Depression era, postwar Germany, and finally Mexico. In this first book-length treatise on Fontaine, readers will experience his work and, through previously unpublished photographs, also his community of artists that survived the war in Europe. Fontaine's daughter, Claudia Chidester, offers a biographical section, which is centered around the lessons learned from Fontaine—on topics from marrying well to obtaining valuable press credentials. Taken altogether, this extraordinary book sets forth an intimate and detailed portrait of a global artist who lived and worked for most of the twentieth century.
Chidester's well-researched yet intimate biography relies on extensive correspondence and diaries and manages to bring her father's long-overlooked career to life. She and her fellow essayists brilliantly demonstrate the progress and processes of the artist, who left behind an estimated 600 works in public and private hands. Many of his later, lively, abstract paintings are reproduced in eye-popping color.

An engaging revival of a talented, expat painter who was overshadowed by his midcentury contemporaries.

Kirkus Reviews
..a fascinating book chronicling the artist's work and introducing him, through the context of his life, to a new audience.

Christie's
.. This book is the ultimate resource on Paul Fontaine and aims to make his work accessible to all viewers regardless of background but is especially appropriate for twentieth-century art historians and researchers. It is highly recommended for academic or art libraries with an interest in modern art.

ARLIS/NA Reviews
About the Author
Claudia Fontaine Chidester
Claudia Fontaine Chidester is the daughter of Paul and Virginia Fontaine. She was born an American in Germany in 1956, into an artist household. She was educated in American military-funded schools until the family moved to Guadalajara Mexico during her high school years. She earned her degree in art history from Wellesley College and pursued her passion for art research while working at the Smith College library. After earning her MLIS from University of Texas at Austin and while working in and teaching business research for 15 years, she founded the Fontaine Archive, designed to make available the letters, photography and diaries of Virginia Fontaine and the art of Paul Fontaine. The Archive's first publication was Work Standing Up: The Life and Art of Paul Fontaine in 2013. It won the 2014 IBPA Benjamin Franklin Award for design.
About the Contributors
Mary Brantl
Mary Brantl is an associate professor at St. Edward's University in Austin, Texas, where she teaches the history of art and photography. After earning her PhD in art history at New York University's Institute of Fine Arts, she taught at Southern Methodist University in Dallas (as the Haakon Fellow), St. Thomas University in St. Paul, Minnesota, and Bucknell University in Pennsylvania. Her recent scholarship focusing on twentieth-century German immigrant photographers in the United States provided a ready comparative basis for a consideration of Paul Fontaine's work in Germany.
Katie Robinson Edwards
Katie Robinson Edwards is assistant professor of modern and contemporary art history at Baylor University's Allbritton Art Institute. Her research interests include Jackson Pollock, Andrew Wyeth, Texas artists, and twentieth-century American abstraction. Her book Midcentury Texas Modernism: Abstract Painting and Sculpture from the 1930s to the 1950s was published by the University of Texas Press in 2014.
Robert Linsley
Robert Linsley is an artist living in Kitchener, Canada. He has shown his work in Barcelona, Berlin, Düsseldorf, Toronto, New York, Los Angeles, Vancouver, Portland, and Rome. He has written many exhibition catalogues and articles on contemporary and historical art.
Margaret Stenz
Margaret Stenz, an independent art historian specializing in nineteenth- and early twentieth-century American art, received her PhD in art history from the City University of New York. She has worked at the Brooklyn Museum, the Nelson-Atkins Museum of Art (Kansas City), and the New Britain Museum of American Art (Connecticut), and taught art history at the University of Kansas and at Baruch College, City University of New York. Currently, she is the collection manager for the City of Austin Art in Public Places program.
---
More Fontaine Archive Publications
Interested in the role arts played in postwar Europe's rebuilding? Check out Trusted Eye by Claudia Fontaine Chidester