The Fontaine Archive mission is to foster a community of historians, art historians, artists, and collectors interested in the art and events of postwar modernism in Germany. The writings and art of Virginia Hammersmith Fontaine (1915-1991) and Paul Emile Fontaine (1913-1996) provide context and detailed description of the expatriate experience and the role that the arts played in postwar Europe's rebuilding.
New !!!!
Audio Interview with Virginia and Paul Fontaine
Listen to the voices of Virginia and Paul Fontaine interviewed by Claudia Chidester in 1984. They are discussing questions around the art collection, diaries, and photo album. They reveal provenance for artwork in the Fontaine collection and the character of the artists, collectors, art historians, and friends along with other anecdotes around the times.
Part 1 ( persons mentioned in this order) Please note: after the first minute, the quality of recording improves.
Franz and Julian Roh (multiple mentions), Hans Hildebrandt, Ottomar Domnick, Henri Davring ( Heinrich Davringhausen), Carl Buchheister, Hans Hartung, Hans Wingler, Hans Mettel, David York, Wilhelm Loth, Gordon Gilkey (multiple mentions), Jack Horner, Ida Kerkovius
Hanna Bekker vom Rath, Georg von Schnitzler, Herman Tomada, Sigfried Reich an der Stolpe, Otto Ritschl, E. W. Nay, Ottomar Domnick, Hans Hildebrandt, Karl Schmidt-Rottluff, Bernard Schultz, Hans Kunz, Bernd Krimmel, Norbert Kricke, Hans Otto Müller-Erbach (multiple mentions), Ferdinand Macketanz, Hans Wagner, Erich Heckel
Franz Krause, Hermann Schmidt-Schmied, René Hinds, hans Platschek, Arthur Fauser ( multiple mentions), Wilhelm Loth, Bernd Krimmel, Una Johnson, Alp Altripp, Willi Baumeister, Rolf Cavael, Gerhard Fietz
Gerhard Fietz (multiple mentions), Gordon Gilkey, Karl Otto Götz, Karl Hartung, Alexander Rath and family, Julius Bissier, Otto Ritschl, Otto Dix, Erich Heckel, Ida Kerkovius, Eline McKnight, Carl Hofer, Günther Franke, Marc Chagall, Ossip Zadkin, Hans Hartung, Julio Gonzalez, Roberta Gonzalez, Mary Lou Solms, Rolf Cavael, Otto Müller-Landau, Emy and Karl Schmidt-Rottluff, Wilhelm Haerlin, Chichio Haller, Henri Davring, Willi Maywald, Karl Hartung, Oscar and Tut Schlemmer, Ottomar Domnick, Erich Heckel, Ida Kerkovius, Käthe Kollwitz, Bernd Krimmel, Egon Vieta,
Christian Kruck, Darmstädter Sezession, Kestner-Gesellschaft, Hans Kuhn, Josef Liesler, Wilhelm Loth, Ferdinand Macketanz, Jarmila Maránová, Ewald Mataré, Georg Muche, Jaroslav Narovak, Max Pechstein
Ruth and Capt. Glen Christian, Karl Schmidt-Rottluff, Max Pechstein, Carl Hofer, Tanta Ida Hammerschmidt, Carol Fontaine (later Frohman, Barboo), Georg Kolbe, Hans Platschek, Reich an der Stolpe, Rambrandt van Rijn, Christian Rohlfs, Eberhard Schlotter, Max Peter Maass, Willi Grohmann, Paul Klee, Jürg Spiller, Frank Kuntz (sp?), Chichio Haller, Rolf Bürgi, Dr. Kurt Valentiner, Heinz Wilhelm Sabais, Eberhard Schlotter, Gotthelf Schlotter, Werner Schreib
Lucia Stern, Heinz Trökes, Hans Uhlmann, Heinrich Wildemann, René Hinds, Franz Krause, Heinz Rasch (multiple mentions),Emilie Tomanova, Hans Kunz, Jack Horner, Alfred Eichhorn, Galerie Rosen, Hector Navarro, Ludwig Meidner, Hermann Schmidt-Schmied, Hans Wagner, "Rheinishe Mädschen", Gerhard Schneider, Kurt Herberts, Willi Baumeister, Karl Ströher
Interview Transcription (Draft typewritten in 1984: mildly edited for clarity, reviewed by Virginia Fontaine.)
Finding Aid
The Finding Aid details all documents and information from the Fontaine Archive.
Archive Person Index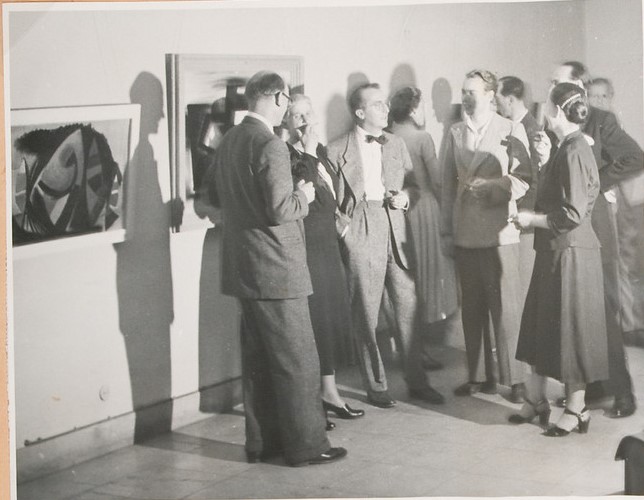 The Archive Person Index catalogs persons in guestbook entries, the diaries, photographs, the scrapbook, mentioned in letters or having received correspondence from with links for more information.
Other Indexes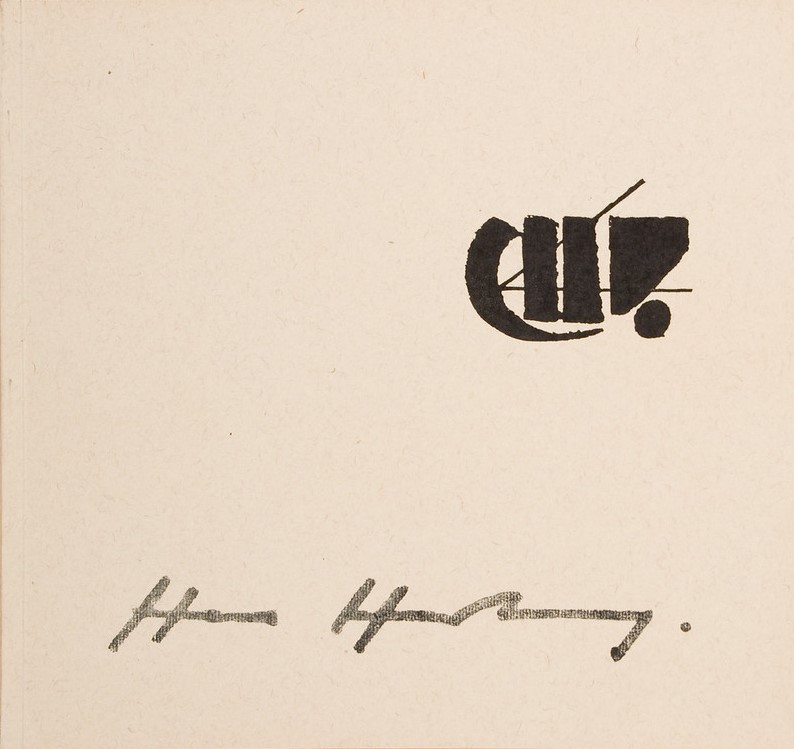 Books and Exhibition Catalogues: Indexes the books and exhibition catalogs in the archive covering art 1935-1955 and more recent historical texts relevant to the collection.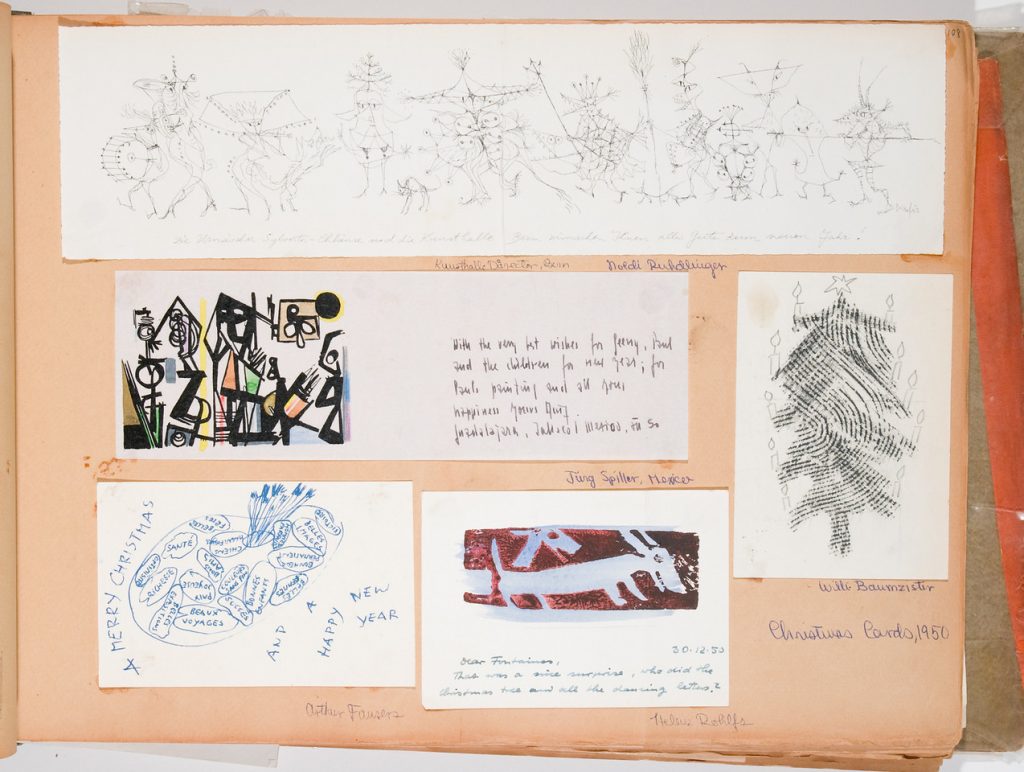 Non-Photo Materials: Indexes ephemera in the scrapbook such as Christmas cards and notes from artists, art show and music event invitations and tickets, travel postcards, and clippings.
Select Documents
The archive includes approximately 314 photographs, 350 artworks, 13.5 linear feet of books and manuscripts, 10 linear feet of miscellany, and 6 linear feet of letters and documents related to the Fontaines' life as art students and their residency in postwar Germany and Mexico. The bulk of the documentation covers the years from 1935 to 1965, during the height of Modernism.
In addition to photographs, letters and ephemera, the archive is also a repository for a significant number of art history monographs, theory texts and rare catalogs from the 1930s onward, some of which have only scant documentation in OCLC. Included in the book collection are the homemade art survey texts of Paul and Virginia Fontaine from their Yale studies, comprised of notes, drawings, photographs and reproductions that serve as both a chronicle of their studies and a window into mid-century art historical practice.
Finally, the archive also houses a portion of Paul Fontaine's oeuvre, dating from the 1940s to the large-scale canvases he completed shortly before his death. As the provenance of other works is still an ongoing process, the most cumulative known collection of his paintings is housed in the Fontaine Archive, adding a definitive creative stamp to a massive amount of context.