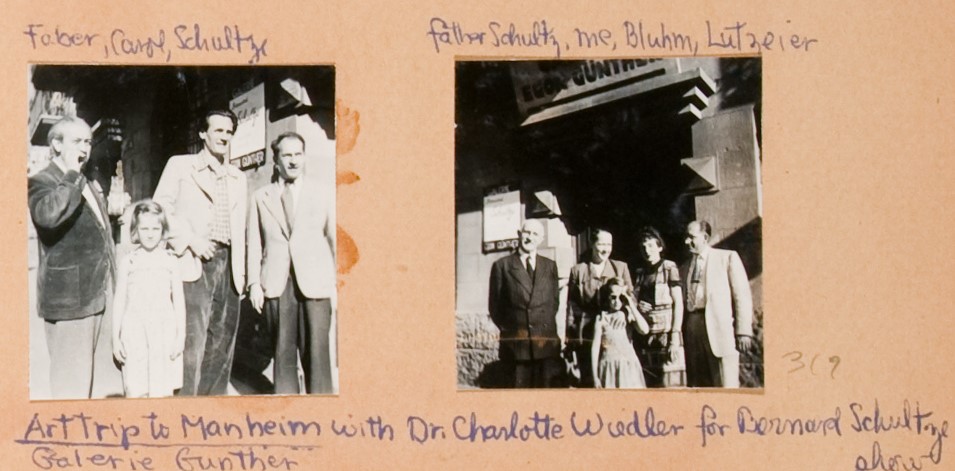 Ursula—That's Me. So What?
March 18 – July 23, 2023
Heinrich-Böll-Platz
50667 Köln
Germany
Back to the 50s
March 27, 2023 – May 8, 2023
Rankestrasse 24
Wilmersdorf – Berlin,
Germany 10789
Ursula Schultze-Bluhm (1921-1999) was an important connection for Virginia Fontaine. She worked for the Amerika Haus in Frankfurt aiding artist communications and exhibitions. Virginia worked closely with Ursula curating a Fontaine exhibition in Kassel and coordinated helping artists and speakers when they visited Frankfurt. They also frequently traveled to exhibitions together. Virginia reports in her diaries Ursula and artist Bernard Schultze (1915-2005), whom she later marries, travel to Paris together for one of his shows. Visit the 1951 and 1952 diaries and search under "Bluhm" to find the many artists and events she was connected to. Madam Kandinsky in Paris spoke "kindly" of Ursula and Bernard. Surprisingly, Virginia never mentions Ursula's own art, but also may not have known about the work. Ursula first exhibits in 1954 at Frankfurt's Zimmergalerie Franck. (See Biographical timeline). Note: the original Fontaine diaries, photo album and photographs and slides that include Ursula Bluhm and Bernard Schultze are now at the University of Texas, Harry Ransom Center archive. The HRC also has a large drawing by Bernard Schultze that the Fontaine's acquired in 1951.
"The Ludwig museum (Köln) show March 18 – July 23, 2023 is the first comprehensive museum exhibition in over thirty years. It contains over 236 works, 44 of which come from the museum's collection. Ursula's life and work offer an unconventional narrative of artistic independence….Terms such as naïve painting, Surrealism or individual mythology only touch on her unorthodox visual ideas" MORE
Bernard Schultz is currently being exhibited at Kunsthandel Jörg Maass (Berlin) until May 8, 2023
as part of the art informel movement with many of the artists described in the Fontaine Archive such as, Fritz Winter, Hans Platschek, Heinz Trökes and Willi Baumeister
"Does Informel now require a new form of reception? As a viewer, how does one encounter an informal work? A reception that is adequate for informal art first of all presupposes that one engages with the non-representational world of images and perceives the work as an autonomous aesthetic phenomenon. […] the informal work [activates] the viewer's senses and fantasies, triggers emotions and associations… is essentially (re)experienced and "felt" imaginatively. The challenge for the viewer lies in keeping the process of reception as open as the artist kept that of production open."
Christopher Zuschlag