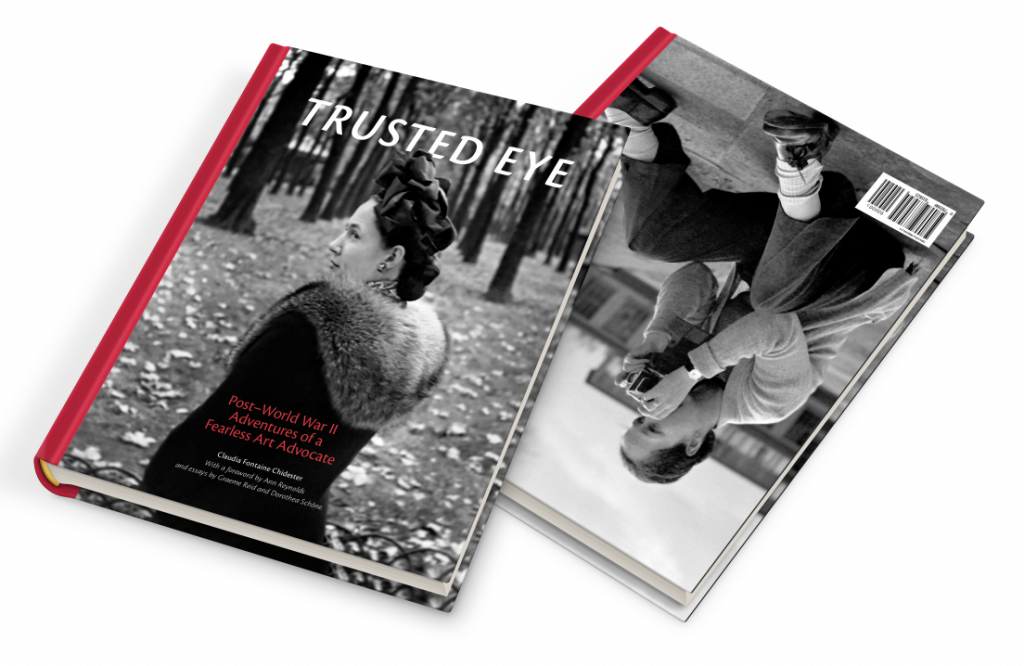 Trusted Eye: Post-World War II Adventures of a Fearless Art Advocate. Claudia Fontaine Chidester with a foreword by Ann Reynolds and essays by Graeme Reid and Dorothea Schöne.
Perfect for enthusiasts of women's stories, postwar photo-journalism and art.
---
About the book
Virginia Fontaine fought continually for recognition—as a woman and as a liaison, a photographer and an art curator. She was an avid documentarian, who through her journals and photographs, has preserved a uniquely intimate perspective into this period of time and her life among the ever-changing constellation of artists and friends who survived the war.
The chapters' first-person accounts range from struggles with Yale Art School to life as an expatriate in the Tortola, BVI, to later managing the workers in a gun-parts factory. Virginia also describes helping the Jewish Underground, her travels with gallerists throughout Germany, her run-in with the Monuments Men, the international reach of Senator McCarthy into Germany, and failed attempts at finding paid work. Respective essays by Graeme Reid, and Dorothea Schöne, illuminate Virginia's early years in Milwaukee and then her impact on the art culture of early postwar Germany.
Reviews
…[Trusted Eye,] then, is not a memoir; it is a biography that subtly frames primary documents so that Virginia Fontaine's voice draws the threads of her own life together to tell a history that we all need to hear.

Ann Reynolds, author of Robert Smithson: Learning From New Jersey and Elsewhere
A biography of Virginia Fontaine, a key player in the German art scene following World War II.

…

A vivid recollection of Fontaine's fascinating life emerges—one that the author allows to be conveyed largely through Fontaine's letters, a strategy that provides her with a measure of objectivity despite her obvious love and admiration for the subject. As Ann Reynolds aptly puts it in her foreword: "Her book, then, is not a memoir; it is a biography that subtly frames primary documents so that Virginia Fontaine's voice draws the threads of her own life together to tell a history that we all need to hear." Moreover, the book is brimming with beautiful photographs of both people and artwork. A thoughtful biography of an important figure in art history, handsomely adorned with photographs. (Full review) — —-Kirkus Reviews
Blending biography and memoir, the author paints an engaging portrait of an exceptional woman who happens to be her mother. Trusted Eye follows Virginia Fontaine from a childhood of relative privilege in Milwaukee to the hardships of post-World War II Germany and on to life as an expatriate in Mexico. What emerges is a well-rounded and thoroughly documented profile of a unique figure with a gift for friendship and a bone-deep passion for art.

– John Gurda, author of The Making of Milwaukee
Trusted Eye chronicles the rich and vibrant life of Virginia Fontaine, a gifted, formidable woman who turned the limitations imposed by her era into an adventure that will be the envy of every art lover who encounters it. Through a captivating mix of photos, reproductions, and narrative, as well as fascinating contemporaneous documents, her life in post-World War II Germany comes into clear focus, illuminating her vital role in supporting artists and rebuilding the cultural fabric of the vanquished country in the bright light it deserves. I wish I could have been along for the ride

-C.F. Yetmen, author of That Which Remains
What a pleasure to discover the extraordinary life of Virginia Fontaine, an ordinary housewife –and thwarted artist – from Wisconsin who finds her métier as a "crusader for art" in the turmoil and excitement of post-WWII Germany. Virginia never says "no" to an adventure, and we get to go along for the ride in this intimate treasure trove of letters, snapshots, clippings and memories compiled by her daughter Claudia.

— Ann Daly, author of Done into Dance: Isadora Duncan in America
Claudia Fontaine Chidester's Trusted Eye renders her artistic mother's historic contributions as a mid-century "crusader for art" in war-torn Germany. Virginia Fontaine had relinquished her Yale art training for the sake of her husband's – "A family can only have one artist," Virginia decreed – then spent postwar years in ravaged Frankfurt helping other artists not to relinquish theirs. The reader of Trusted Eye becomes archivist alongside Chidester, exploring fascinating letters, photos and paintings that illustrate her montage-style narrative. Chidester relates family history with loving admiration and healthy distance, as she skillfully manages an abundance of details and exhibits clear mastery of her formidable archive. Early inclusion of Virginia's dark, realist painting, Flood, accentuates her mother's weighty sense of loss and burden as she longed to travel, to work, and to earn wages. However, Chidester's ensuing portrayal of Virginia's colorful international friendships and her keen modernist eye denotes Virginia's remarkable resourcefulness in salvaging an artistic life amidst ruins. Moreover, Chidester reveals through her own artistic writer's voice that, in fact, a family can have many artists. Highly recommend.

-Mimi Killinger, author of Painted Flowers Shouldn't Talk Back: The Houston Garden Artists in the Seventies (forthcoming Texas A&M Press, July 2021)
Trusted Eye is a riveting, well-paced, and densely packed account of the remarkable life of Virginia Hammersmith Fontaine. It will be of great interest to the historian, whether of early-20th century American history, post-World War II German history, or women's history. Virginia Fontaine's story has it all.

Claudia Chidester has created a successful blend of biography based on correspondence and personal recollection, coupled with detailed historical context.

We learn about Virginia's youth, her embeddedness in midwestern community with its strong family values, through an account of her roots. About her ability to labor indefatigably in building a house from the foundation up. About her dreams to be an artist, but also her willingness to put her own ambitions on the back burner as she works to promote her painter husband's work instead. This teaches her about networking within her local art communities, prior to her move to bombed-out Frankfurt in 1946 to join her husband.

We learn also about the difficulties of trying to establish a (paying!) career in her new milieu. Virginia Fontaine was eminently successful in surfacing artists and making connections for them and for herself in postwar Germany, but she didn't receive the career credit this work deserved. Yet Virginia, unlike many other wives and mothers, wasn't shy about pushing herself as hard as possible, even if it came at the expense of some conventions. Trusted Eye goes the distance to shine a spotlight on her remarkable career, and in doing so we glean valuable insights into the price of being faithful to one's ideals

I recommend this book to anyone interested in biography, or art, or history.

–Yule Heibel, PhD, author of Reconstructing the Subject: Modernist Painting in Western Germany, 1945-1950
About the Author
Claudia Fontaine Chidester
Claudia Fontaine Chidester was born in Frankfurt, Germany in 1956. She attended U.S. military-funded schools until the family moved to Guadalajara Mexico during her high school years. Chidester earned her degree in art history from Wellesley College and pursued her passion for art research while working at the Smith College library. Later, she earned a master's degree in library and information science from University of Texas at Austin, worked in venture capital, and taught business research for 15 years. Chidester founded the Fontaine Archive, which has collected and organized her parent's rich collection of materials; it is designed to make available the letters, photography and diaries of Virginia Fontaine and the art of Paul Fontaine. The Archive's first publication Work Standing Up: The Life and Art of Paul Fontaine (2013), won the 2014 IBPA Benjamin Franklin Award for design.
About the Contributors
Grame Reid
Graeme Reid is the director of collections and exhibitions at the Museum of Wisconsin Art. He previously worked at the John Michael Kohler Arts Center (Sheboygan, WI), the Art Museum of Greater Lafayette (IN), and the Swope Art Museum (Terre Haute, IN). Over the years, he has curated over 120 group and solo exhibitions and worked on the development and installation of institutional collections. He has taught art history and the humanities at Indiana State University and Purdue University and is a regular guest lecturer at colleges and museums in Wisconsin. Born in Scotland, Reid is a graduate of the University of Glasgow and Indiana State University.
Ann Reynolds
Ann Reynolds is an associate professor in the Department of Art and Art History and the Center for Women's and Gender Studies at the University of Texas at Austin. Her recent publications include essays on queer histories, Joan Jonas, Ruth Asawa, Jack Smith, and Zoe Leonard. She is the author of Robert Smithson: Learning from New Jersey and Elsewhere (MIT Press, 2003). She is currently completing In Our Time, a history of New York artists and writers in the years 1940–1970 whose intergenerational relationship were shaped by shared, heterogeneous commitments to Surrealism and its legacy, primarily through a love of film.
Dorothea Schöne
Dorothea Schöne has been the director of the Kunsthaus Dahlem in Berlin since 2014. After receiving her master's degree in art history and political science at the University of Leipzig, she was awarded a Fulbright Grant to pursue predoctoral research at the University of California, Riverside. She worked as a curatorial assistant at the LA County Museum of Art and has been awarded grants by the German Academic Exchange Program and the German Historical Institute in Washington, D.C. Her PhD on postwar modernism in Berlin was published as Freie Künstler in einer freie Stadt. Die amerikanische Förderung der Berliner Nachkriegsmoderne (DeGruyter, 2016).
---
More Fontaine Archive Publications
Interested in Paul Fontaine's life and work? Check out Work Standing Up by Claudia Fontaine Chidester