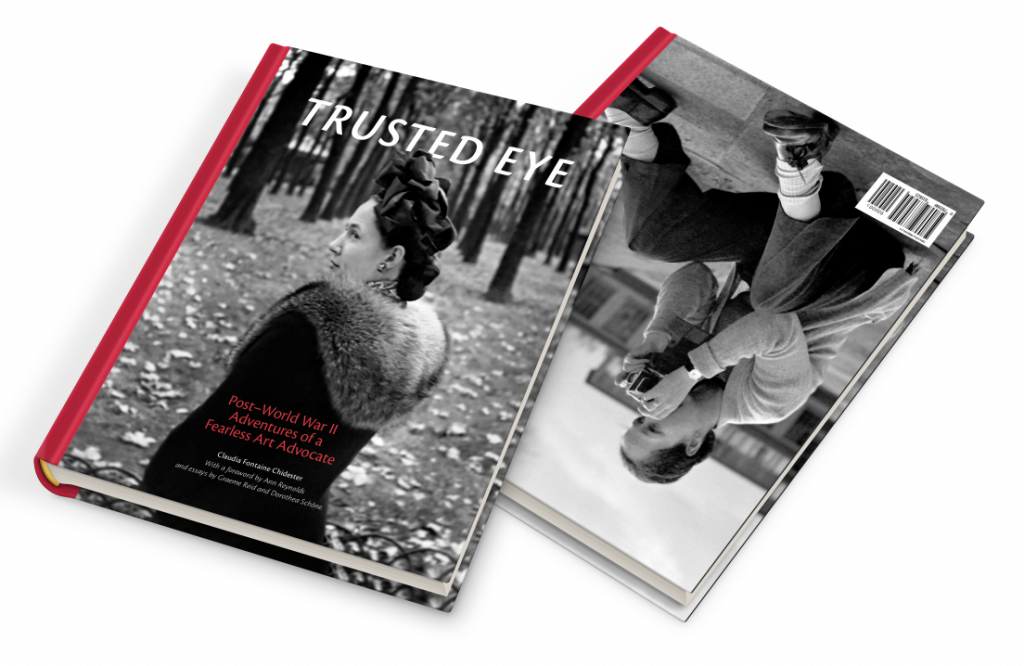 Coming Spring 2021
Trusted Eye: Post-World War II Adventures of a Fearless Art Advocate. Claudia Fontaine Chidester with a foreword by Ann Reynolds and essays by Graeme Reid and Dorothea Schöne.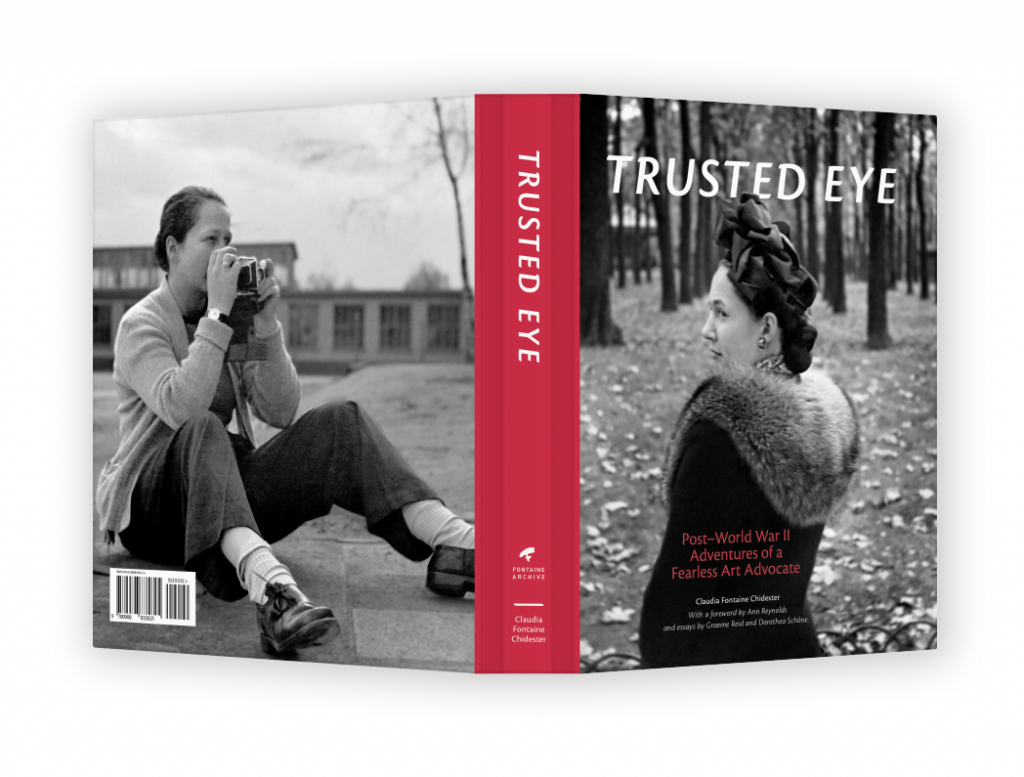 Perfect for enthusiasts of women's stories, postwar photo-journalism and art.
Trusted Eye: Post–World War II Adventures of a Fearless Art Advocate is a compelling narrative of an American wife and mother finding her place amid the rubble of war-torn Germany.
Registration Details
Expected release: Spring 2021
$55 early bird price until it arrives, …..
$75 includes Work Standing Up.
<<>>
---
About the book
Virginia Fontaine fought continually for recognition—as a woman, a photographer, an art curator, and, perhaps most importantly, a liaison between beleaguered German artists and the outside world. Through journals, letters, and photographs, she recorded her uniquely intimate perspective on this period, amid an ever-changing constellation of artists and friends.
Fontaine documented her life from a young age: her struggles at Yale Art School, her year as a newlywed in the British Virgin Islands, and her employment in a munitions factory. Later, she helped the Jewish underground in Europe; traveled with gallerists throughout Germany, Switzerland, and France; tangled with the Monuments Men; and experienced the international reach of Senator Joseph McCarthy's anticommunist pursuits.
Essays by the art experts Graeme Reid and Dorothea Schöne illuminate Fontaine's early years in Milwaukee and her impact on German art culture in the early postwar years.
This book is both a biography and a visual almanac for an intricate slice of the twentieth century.
…[Trusted Eye,] then, is not a memoir; it is a biography that subtly frames primary documents so that Virginia Fontaine's voice draws the threads of her own life together to tell a history that we all need to hear.

Ann Reynolds
About the Author
Claudia Fontaine Chidester
Claudia Fontaine Chidester is the daughter of Paul and Virginia Fontaine. She was born an American in Germany in 1956, into an artist household. She was educated in American military-funded schools until the family moved to Guadalajara Mexico during her high school years. She earned her degree in art history from Wellesley College and pursued her passion for art research while working at the Smith College library. After earning her MLIS from University of Texas at Austin and while working in and teaching business research for 15 years, she founded the Fontaine Archive, designed to make available the letters, photography and diaries of Virginia Fontaine and the art of Paul Fontaine. The Archive's first publication was Work Standing Up: The Life and Art of Paul Fontaine in 2013. It won the 2014 IBPA Benjamin Franklin Award for design.
About the Contributors
Grame Reid
Graeme Reid is the director of collections and exhibitions at the Museum of Wisconsin Art. He previously worked at the John Michael Kohler Arts Center (Sheboygan, WI), the Art Museum of Greater Lafayette (IN), and the Swope Art Museum (Terre Haute, IN). Over the years, he has curated over 120 group and solo exhibitions and worked on the development and installation of institutional collections. He has taught art history and the humanities at Indiana State University and Purdue University and is a regular guest lecturer at colleges and museums in Wisconsin. Born in Scotland, Reid is a graduate of the University of Glasgow and Indiana State University.
Ann Reynolds
Ann Reynolds is an associate professor in the Department of Art and Art History and the Center for Women's and Gender Studies at the University of Texas at Austin. Her recent publications include essays on queer histories, Joan Jonas, Ruth Asawa, Jack Smith, and Zoe Leonard. She is the author of Robert Smithson: Learning from New Jersey and Elsewhere (MIT Press, 2003). She is currently completing In Our Time, a history of New York artists and writers in the years 1940–1970 whose intergenerational relationship were shaped by shared, heterogeneous commitments to Surrealism and its legacy, primarily through a love of film.
Dorothea Schöne
Dorothea Schöne has been the director of the Kunsthaus Dahlem in Berlin since 2014. After receiving her master's degree in art history and political science at the University of Leipzig, she was awarded a Fulbright Grant to pursue predoctoral research at the University of California, Riverside. She worked as a curatorial assistant at the LA County Museum of Art and has been awarded grants by the German Academic Exchange Program and the German Historical Institute in Washington, D.C. Her PhD on postwar modernism in Berlin was published as Freie Künstler in einer freie Stadt. Die amerikanische Förderung der Berliner Nachkriegsmoderne (DeGruyter, 2016).
---
More Fontaine Archive Publications
Interested in Paul Fontaine's life and work? Check out Work Standing Up by Claudia Fontaine Chidester